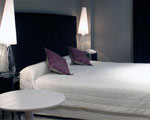 Located in the center of Langon, only 30 minutes drive from Bordeaux, in an old post office, the Hotel Claude Darroze has a terrace and a garden. Castles and Graves vineyards are accessible by car.
Usefull Informations - At the subject :
All the hotels detailed with video presentation, (Langon hotel, booking hotel, book hotel Langon, lodging, accomodation, hotel, Langon, deals, cheap, discount), entre-deux-mers, bieujac, bommes, castets-en-dorthe, fargues, leogeats, mazeres, roaillan, bazas, saint-loubert, saint-pardon-de-conques, saint-pierre-de-mons, sauternes, toulenne.