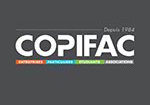 Printing and communications agency in Bordeaux since 1984 Copifac is a network of professional agencies serving students, associations, businesses and individuals.

Copifac with you to create a website, photocopying, printing and graphing visual works.
Usefull Informations - At the subject :
All the printing offices in Langon detailed with video presentation, (Langon print, printer, business card, flyers, showcards, posters, leaflets, brochures, stationery, postcards, booklets, pao, stickers, offset printing), bieujac, bommes, castets-en-dorthe, fargues, leogeats, mazeres, roaillan, bazas, saint-loubert, saint-pardon-de-conques, saint-pierre-de-mons, sauternes, toulenne.