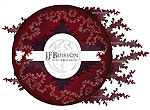 After studies of communication, it integrates the Spina group as a beater. It is initiated with the welding to manufacture its own battery and launches out in a way spontaneous and surprising in creation of sculptures and furniture. It traverses the city, breakages, seeks, buys, piles up, stores all kinds of "scrap".

Today Jean-François Buisson exposes everywhere throughout the world.
Usefull Informations - At the subject :
All the artistics galleries in Bordeaux detailed with video presentation, (artistic exhibition, artistics galleries, exhibition of painters bordeaux, exhibition of sculptors bordeaux, exhibition of photographers bordeaux, art bordeaux), ambares-la-grave, ambes, artigues, bassens, bars begles, blanquefort, bouliac, bouscat, bruges, carbon-blanc, cenon, eyzines, floirac, gradignan, haillan, taillan-medoc, lormont, merignac, parempuyre, bars pessac, saint-aubin-de-medoc, saint-louis-de-montferrand, saint-medard-en-jalles, saint-vincent-de-paul, talence, villenave-d'ornon.